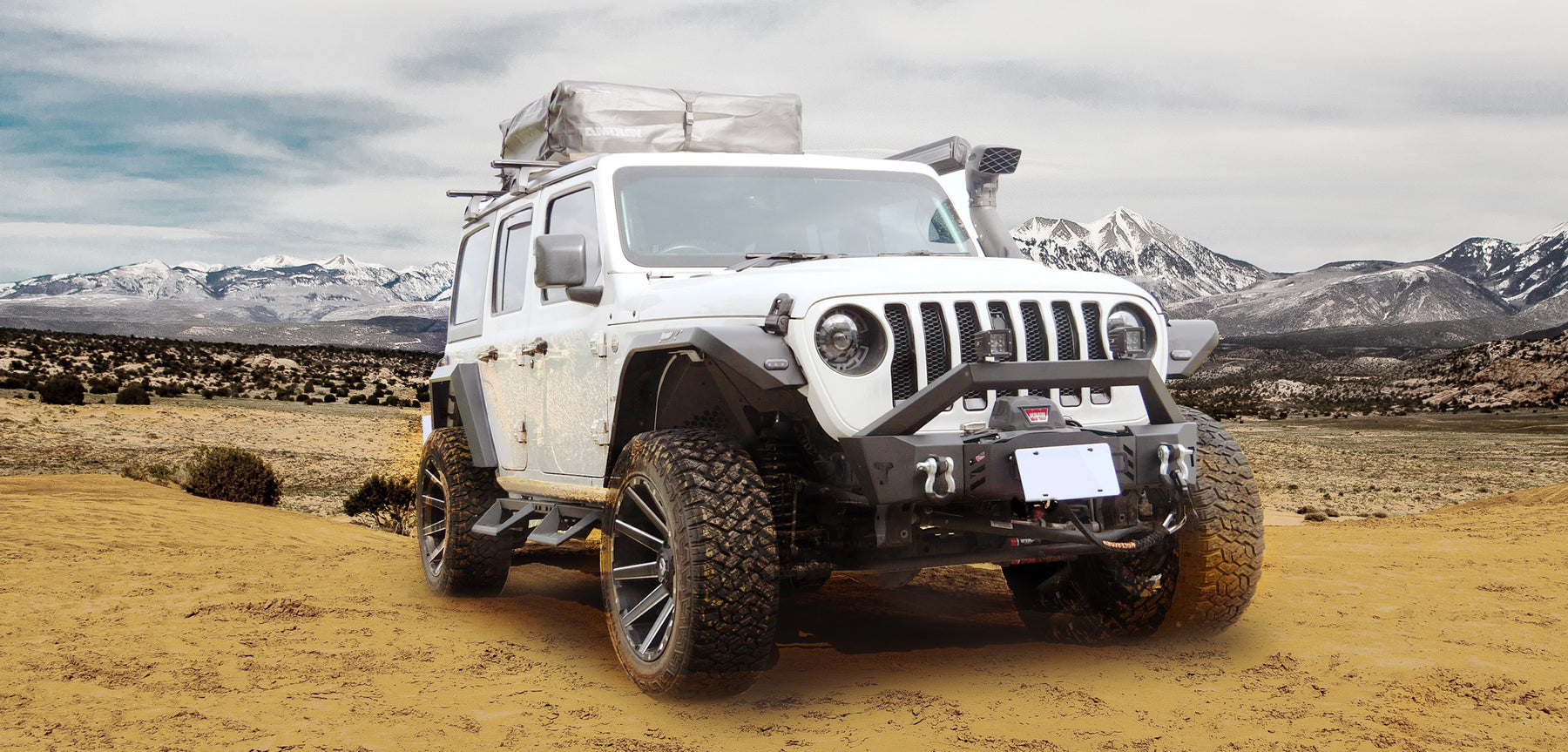 12 Tips of What to Look for a New Jeep Front Bumper?
A good bumper not only enhances a better look to your vehicle's overlook, but it also gives your Jeep better functionality and protection.  At Wolfstorm, we strive to design and build our body part products that will give your Jeep a better look, functionality, protection, while offering you the more fair price throughout the product lines.  Below, we list a number of tips that the bumper shoppers should be aware of.
1. The bumper will also give you a great approach angle:
When it comes to overcoming the obstacles, vehicle owners will definitely prefer to approach most of the objects on their tires first without contacting/scraping to their Jeeps' body parts.  With 13.28 inches for the side width, Wolfstorm's WSAJT01A101-BX Jeep Gladiator JT front bumper is designed to give the vehicle a great 59° degree approach angle visually (see the image below).
2. Material:
you want to make sure that your Jeep's bumper is durable and tough enough to defend your lovely Jeeps from many situations. With Wolfstorm's 3/16" heavy-duty steel Construction that's 3 layers of coatings: carbon steel layer, powder coated layer, electro-galvanized layer.  The Wolfstorm's WSAJT01A101-BX gives your vehicle great protection and durability (see the image below for reference.)
3. Increase visibility - 
A good bumper is also geared with additional functionality to your driving.  Wolfstorm's WSAJT01A101-BX front bumper also comes with 2 x LED Lights and its wiring harness that will be attached to the bumper to expand visibility at daytime and night, so it give you a better awareness during your night endeavor. 
4. compatible rear bumper? 
In order to achieve a more consistent look from the front to the end on your Jeeps, Wolfstorm also offers a rear bumper (WSAJT01B101-BX) that matches the style of WSAJT01A101-BX front bumper.  Here is the link for the product for your reference: https://www.wolfstorm.com/collections/gladiator-jt/products/rear-bumper-with-19-21-jeep-gladiator-jt-with-2-led-lights-hitch-receiver
5. D-Ring included: 
Wolfstorm includes 2 D-rings in the WSAJT01B101-BX purchase.
6. Easy installation? 
Hiring a mechanic to do any type of auto part installation is not so cost efficient nowaday, particularly in the high labour cost countries such as the United States.  Thus, Wolfstorm aims to design products that are easy for DIY (Do it yourself).  No cutting or drilling is required for the DIY auto body parts installation, and all the Mounting Hardware is Included in the purchase.  On top of that, we provide all the installation instructions on Wolfstorm's Youtube channel for most of our products:
 https://www.youtube.com/channel/UCOUuGtYb0TFUNf5KGv-tNDA 
7. Winch space: 
Wolfstorm's WSAJT01A101-BX front bumper also has a built-in space for Winches.
8. how heavy can it tow? 
The built-in winch plate can install a winch that can tow up to 13,000lb
9. installation instructions included? 
Wolfstorm has offered installation instructional videos for most of our products on Youtube.  For WSAJT01A101-BX front bumper you can check it out here:  https://www.youtube.com/watch?v=ajUNYW1501g
10. Adaptation on the other types of the Jeep?

Customers may also need to look for products that's compatible with different vehicle types for broader usages.  WSAJT01A101-BX is also designed to be installable to various types of Jeep.  These types included but not limited to: 2019-2021 Jeep Wrangler JL / JLU, Rubicon (both Deluxe and Sport), Willys Sport, Sahara, Sport Altitude, Sport S, Unlimited Moab, Freedom Sport, Islander Sport, Unlimited High Altitude Sport, Altitude Crew Cab, Launch Edition, and etc.

11. Any extra modification requires for Installation? 

Customers should look for bumpers that can directly install on their Jeeps without highly mechanical skill involved.  Wolfstorm's products are OE Fitment Direct Bolt-On Installation.  Front bumper has pre-drilled holes. No drilling hole or cutting required. Easy to install and strengthen your vehicle shocks. Detachable automotive outer accessories allow you to re-design. Easy Bolt-on Installation: With Factory molding hole, no need tiresome drill and any other adjustment.
12. Return Policy and warranty: 
Customers should always look for a seller that provides flexibility to the customers if the purchase decision isn't aligned to customer's expectation.  Hence, Wolfstorm provides 1 year manufacturer warranty and 30-Day return policy to all their products, so customers can acquire products in peace of mind if an unforeseen incident happens.
As mentioned above, there are many considerations that need to be awarded when customers look to buy reliable bumpers.  Wolfstorm's team work hard toward achieving the highest customer satisfaction by providing qualified and affordable products that also accommodate better look, functionality, protection to give customers a better offroad adventure experience.