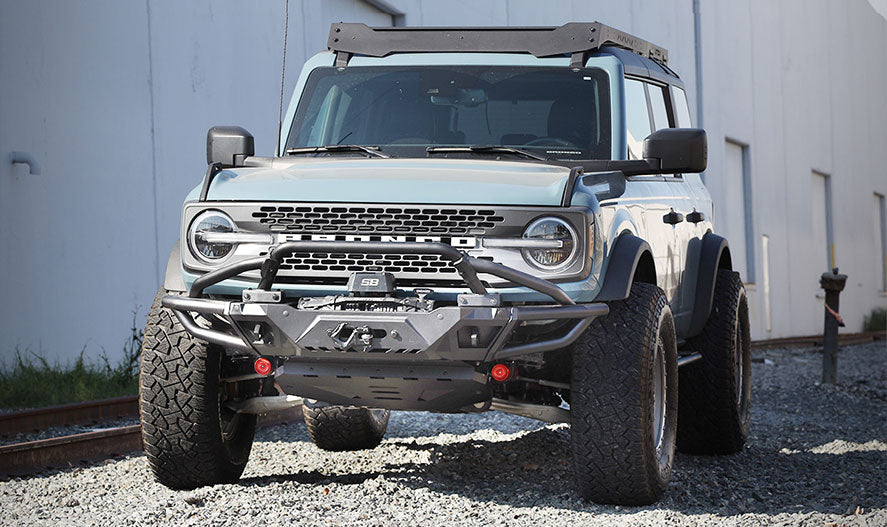 Unleashing the Power of Ford Bronco with the 'BLOCK' SERIES Front Bumper
If you're an off-road enthusiast and a proud owner of a Ford Bronco, you know that having a reliable and sturdy front bumper is essential for tackling rugged terrains. That's where WOLFSTORM Off-Road comes into play with their innovative 'BLOCK' SERIES front bumper. Combining functionality, customization, and a touch of LEGO-style free-assembly, this bumper is designed to take your Bronco to the next level.
LEGO-Style Free-Assembly Bumpers
One of the standout features of the 'BLOCK' SERIES front bumper is the LEGO-style free-assembly design. This unique approach allows you to customize and configure the bumper according to your preferences. With modular components that can be easily interchanged, you have the freedom to create a bumper that suits your style and off-road needs.
Versatility at its Finest
The 'BLOCK' SERIES front bumper offers a range of optional accessories to enhance its functionality. You can choose to add a bull bar for additional protection or opt for skid plates to safeguard the vital components of your Bronco. With recovery options and lighting accessories available, you can equip your vehicle to handle any off-road adventure, day or night.
Uncompromising Durability
WOLFSTORM Off-Road understands the demands of off-road enthusiasts, and the 'BLOCK' SERIES front bumper is built to withstand the harshest conditions. Constructed from high-quality materials, it offers exceptional strength and durability, ensuring it can handle the roughest trails and protect your Bronco when it matters most.
Installation Made Easy
Installing the 'BLOCK' SERIES front bumper is a breeze, thanks to its user-friendly design. With detailed instructions and a straightforward installation process, you can have your Bronco equipped with the bumper in no time. Whether you're a seasoned DIYer or new to vehicle modifications, WOLFSTORM Off-Road has made it hassle-free to upgrade your front bumper.
Elevate Your Ford Bronco's Off-Road Potential
If you're looking to enhance your Ford Bronco's off-road capabilities, the 'BLOCK' SERIES front bumper from WOLFSTORM Off-Road is a game-changer. Its LEGO-style free-assembly design, optional accessories, and rugged durability make it the ideal choice for any off-road adventure. Trust WOLFSTORM Off-Road to unlock the full potential of your Bronco and conquer the trails with confidence.
Visit WOLFSTORM Ford Bronco web page to explore the 'BLOCK' SERIES front bumper and discover other exceptional off-road products they offer.